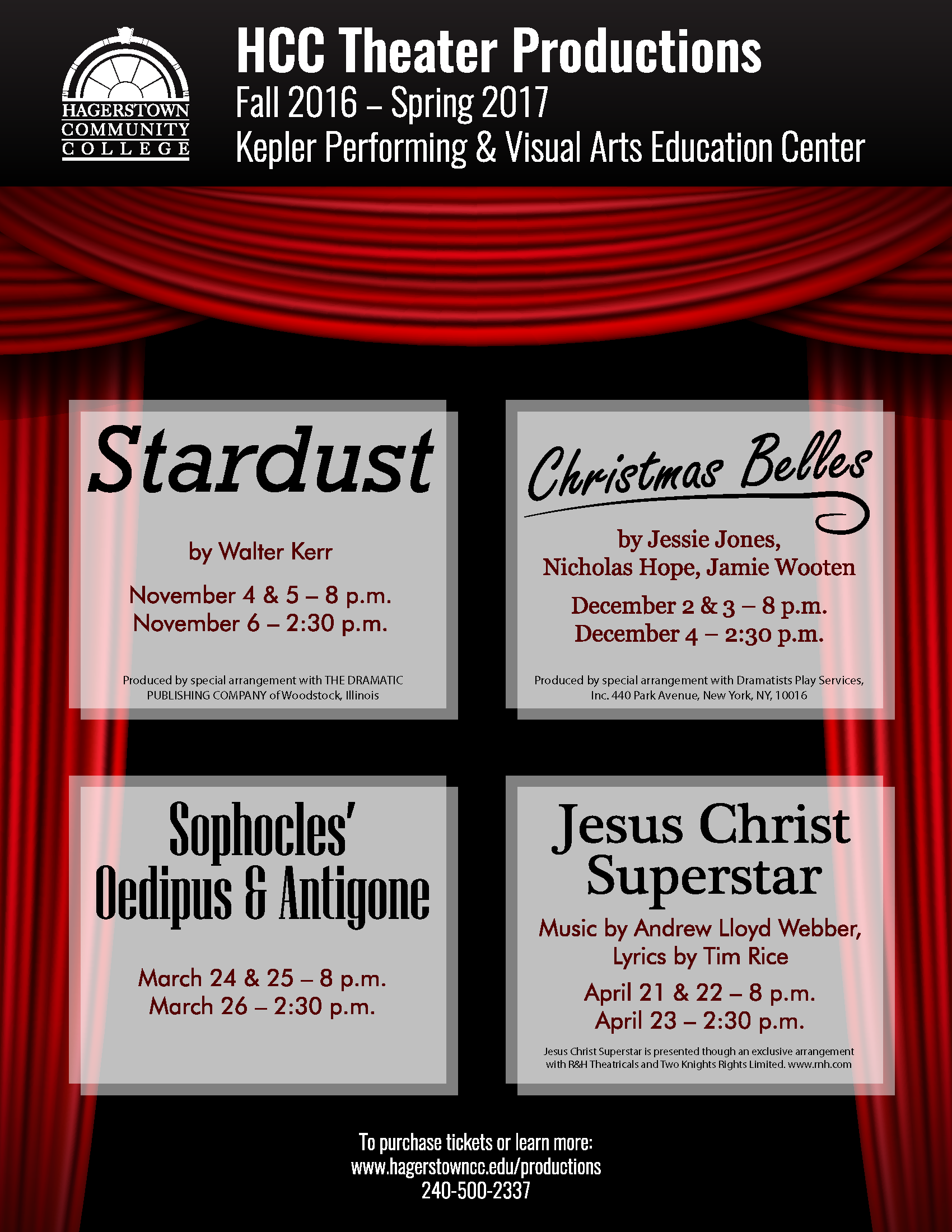 Upcoming Productions
Stardust
This wonderful spoof of The Method, and even The Actor's Studio itself, concerns the students of a dramatic academy awaiting a famous artist who will guest star in one of their plays. They are all trying to "live" their art. The director is very conscious that he studied under Stanislavsky and reminds the students of this fact at every opportunity. Into this madhouse comes the famous actress. To the dismay of all, she is a normal, hard-working girl who teaches the students that there is no substitute for hard work and good sense.
November 4 & 5, 8 p.m.
November 6, 2:30 p.m.
Free Admission, seating is limited
Christmas Belles
A church Christmas program spins hilariously out of control in this Southern farce about squabbling sisters, family secrets, a surly Santa, a vengeful sheep and a reluctant Elvis impersonator.
December 2 & 3, 8 p.m.
December 4, 2:30 p.m.
Sophocles' Oedipus & Antigone
Sophocles' classic Greek trilogy meets the world of George Miller's Mad Max.
March 24 & 25, 8 p.m.
March 26, 2:30 p.m.
Free admission, seating is limited
Jesus Christ Superstar
The ground breaking rock opera by Andrew Lloyd Webber and Tim Rice – HCC's production will focus on the plight of refugees and the homeless receiving the timeless message of peace, healing and social justice from Jesus in their midst. The last few days in the life of Christ and His ultimate resurrection are included in this version. A thought-provoking theatrical presentation that is sure to entertain and engage the audience.
April 21 & 22, 8 p.m.
April 23, 2:30 p.m.