Welcome to the homepage for the HCC Alumni Association, the HCC Foundation, and the HCC Volunteer Corps
The HCC Alumni Association is always happy to have individuals and businesses become active in promoting their alma mater. The Association's activities and projects support HCC and its students. Please be sure to update your contact information.
The HCC Foundation's primary purpose is to raise much needed scholarship dollars for our students. It also supports campus beautification and capital needs of the College. Learn more information about the HCC Foundation and its role and activities.
HCC maintains a corps of dedicated volunteers who complement and supplement the mission, vision, and goals of the College. They serve in a variety of capacities across the campus. Sign-up to be a volunteer.
---
Upcoming Events
2020 Alumni & Friends Cruise - Visit the British Isles with HCC!
This upcoming 2020 adventure will be the "Trip of a Lifetime!"  Hosted by HCC's own Lisa Stewart, the trip will take place May 3 – 16, 2020, on Princess Cruise Line's, "Regal Princess," leaving from London, England.
Our trip will take us to:
London, England
Guernsey (St. Peter Port), England
Cork, Ireland
Dublin, Ireland
Belfast, Northern Ireland
Liverpool, England
Glasgow Scotland
Invergordon, Scotland
Edinburgh, Scotland
Paris/Normandy, France
Our trip includes the following:
Roundtrip transfers between the HCC Parking lot and the airport
Roundtrip airfare
Roundtrip transfers between the airport and ship
A 12-night Cruise aboard the Princess Cruise Line's, "Regal Princess"
All meals and entertainment onboard the ship
All taxes
Remember: On our Alumni & Friends Cruises, we enjoy meals & special parties together; we also travel within the safety of a group; we meet before our cruise events to discuss our plans and to get acquainted; and we always have a great time! 
Everyone is welcome to travel with our group.  So, please invite your friends.  Prices begin at $3,687 per person.  Travel arrangements are through Travel Leaders and agent Belinda Stull.  You can contact Brenda at 301-739-4600. Click here to download the sign-up form.
Past Events
HCC Alumni Association presents 2018 Outstanding Alumnus Award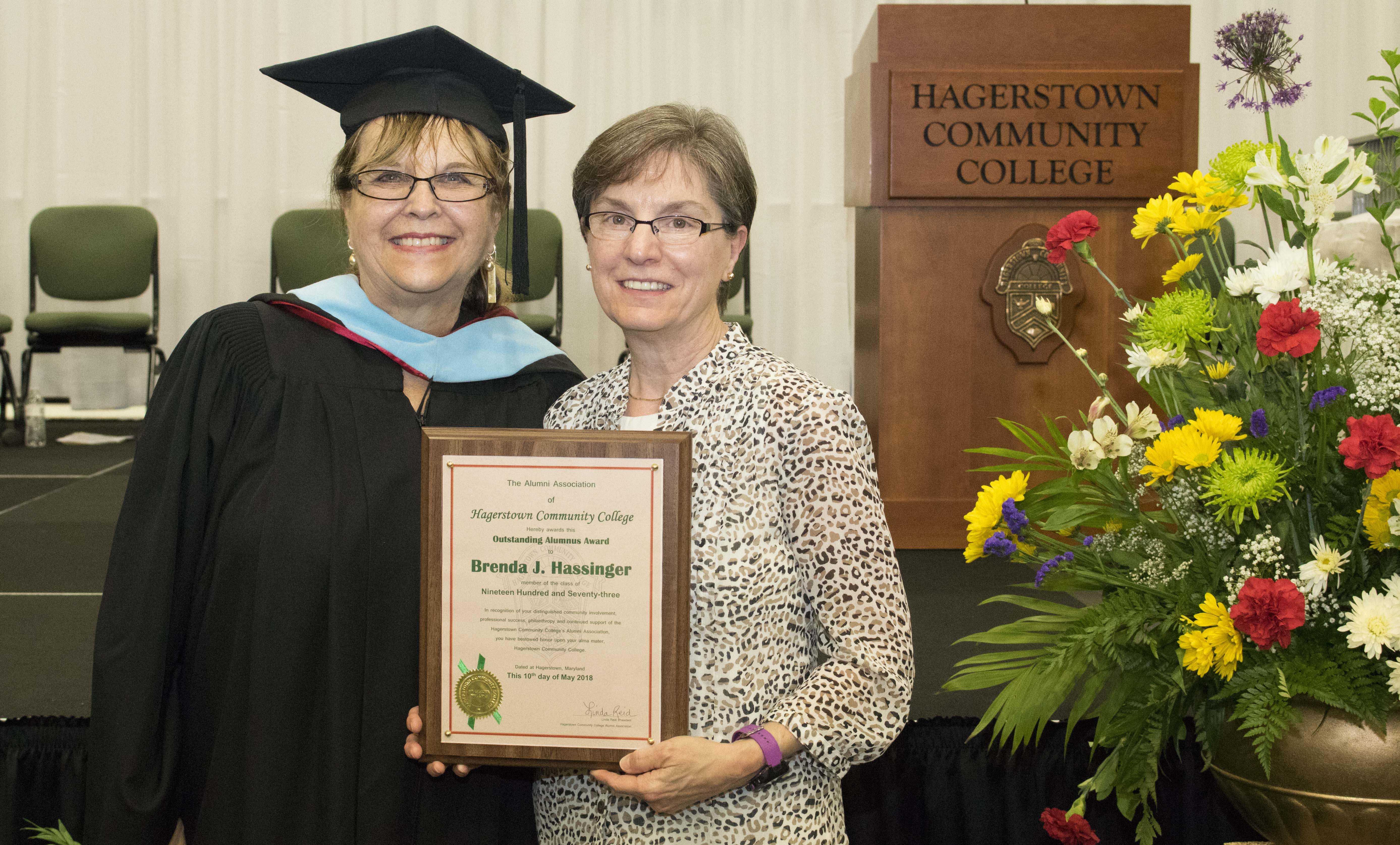 The Hagerstown Community College Alumni Association recently named Brenda J. Hassinger as Outstanding Alumnus of the Year during the college's Honors Convocation. HCC Alumni Association President Linda Reid presented the award in recognition of Hassinger's meritorious unpaid service to Hagerstown Community College and the Alumni Association, as well service to the community.
Hassinger is a 1973 graduate of Hagerstown Junior College, as well as a graduate of Hood College. She taught at HCC for many years and is now is retired from her position as the director for HCC's Radiography Program. While a student at Hagerstown Junior College, she was instrumental in helping move the Radiography Program from the Washington County Hospital to the college campus.
She has been active with the Hagerstown Community College Alumni Association since its reorganization in 1991. During this time she became a life member, served as a member of the HCC alumni board of directors, as vice president of social committee, on the Flower and Garden Show committee, as association president-elect, alumni president, and immediate past president.
Hassinger is also active with the HCC Foundation, Inc., where she is the HCC Alumni Association representative to the foundation board of directors. As such, she has been a mentor to students receiving the Sioda Scholarship, and serves on the scholarship committee and the Promise Pathway committee. She is a member of the HCC Volunteer Corp and volunteers with a variety of projects on campus.
In addition to her volunteer work at HCC, Hassinger is a member of the Haven Lutheran Church Parish Education Committee and served the American Heart Association as a CPR and BLS instructor.
She is married to James Hassinger, who also made a career teaching at HCC.
2018 Annual Tribute Dinner