Welcome to the homepage for the HCC Alumni Association, the HCC Foundation, and the HCC Volunteer Corps
The HCC Alumni Association is always happy to have individuals and businesses become active in promoting their alma mater. The Association's activities and projects support HCC and its students. Please be sure to update your contact information.
The HCC Foundation's primary purpose is to raise much needed scholarship dollars for our students. It also supports campus beautification and capital needs of the College. Learn more information about the HCC Foundation and its role and activities.
HCC maintains a corps of dedicated volunteers who complement and supplement the mission, vision, and goals of the College. They serve in a variety of capacities across the campus. Sign-up to be a volunteer.
---
Upcoming Events
26th Annual Alumni Association Flower & Garden Show

Plan today to be a part of the tri-state area's largest and best floral event as the Hagerstown Community College Alumni Association hosts their Twenty-Sixth Annual Flower & Garden Show, Saturday and Sunday, March 14 & 15, 2020 on the HCC campus in Hagerstown, Maryland,.
More than 120 exhibitors will take part in the Annual Flower & Garden Show themed "The Secret Garden Revealed!" which again promises to be the tri-state area's premier event. 
Spend the day learning and buying from Show exhibitors that include nurseries, distributors of lawn and garden equipment, pottery and statuary, landscaping, tree services, water ponds, stone products, herbs and violets, outdoor furniture, florists, wild bird products, and natural gourmet gifts from the garden. One of the most unique elements of the show is the opportunity to meet, learn, and network with gardening experts. Regional extension agents, as well as nature specialists, will also be on hand to answer questions throughout the show.
Held in HCC's 48,000 sq. ft. HCC Athletic, Recreation and Community Center, the public will have an opportunity to browse, learn, and buy.  Gardening seminars and demonstrations will be presented continuously each day to add to the educational element of the event. Special free gardening activities will be offered for children attending as well.    
Show hours are Saturday, March 14, 2020 from 9 a.m. to 5 p.m. and Sunday, March 15, 2020 from 10 a.m. to 4 p.m.  More information on being an exhibitor/vendor or on attending the show call Lisa Stewart at 240-500-2346.
Flower & Garden Show Vendor Information:
---
2020 Alumni & Friends Cruise - Visit the British Isles with HCC!
This upcoming 2020 adventure will be the "Trip of a Lifetime!"  Hosted by HCC's own Lisa Stewart, the trip will take place May 3 – 16, 2020, on Princess Cruise Line's, "Regal Princess," leaving from London, England.
Our trip will take us to:
London, England
Guernsey (St. Peter Port), England
Cork, Ireland
Dublin, Ireland
Belfast, Northern Ireland
Liverpool, England
Glasgow Scotland
Invergordon, Scotland
Edinburgh, Scotland
Paris/Normandy, France
Our trip includes the following:
Roundtrip transfers between the HCC Parking lot and the airport
Roundtrip airfare
Roundtrip transfers between the airport and ship
A 12-night Cruise aboard the Princess Cruise Line's, "Regal Princess"
All meals and entertainment onboard the ship
All taxes
Remember: On our Alumni & Friends Cruises, we enjoy meals & special parties together; we also travel within the safety of a group; we meet before our cruise events to discuss our plans and to get acquainted; and we always have a great time! 
Everyone is welcome to travel with our group. So, please invite your friends. Prices begin at $3,687 per person. Travel arrangements are through Travel Leaders and agent Belinda Stull. You can contact Belinda at 301-739-4600. Click here to download the sign-up form.
Past Events
HCC Alumni Association presents 2019 Outstanding Alumnus Award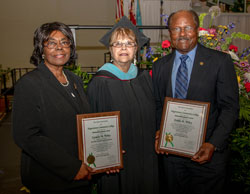 The Hagerstown Community College Alumni Association recently named Gracie and Eddie Wiley as Outstanding Alumni of the Year during the college's Honors Convocation. HCC Alumni Association President Linda Reid presented the award in recognition of the Wiley's meritorious unpaid service to Hagerstown Community College and the Alumni Association, as well service to the community.
Gracie Wiley is a 1991 graduate of Hagerstown Junior College, as well as a graduate of Excelsior College of New York. She retired after a 37-year career in the United States Government working for the National Oceanic and Atmospheric Administration (NOAA).
Eddie Wiley attended HCC from 1999 to 2003 and graduated from University of Maryland. He is retired from the United States Army, where he served as a senior communication electronic operations chief. Additionally, he served as a team leader in information technology for the U.S. Government.
Since 1996, the Wiley's have given numerous hours of their time to volunteer at HCC and with the HCC Alumni Association. Currently, they both serve as directors on the HCC Alumni Association's board, and Gracie has previously served as a vice president of the association. Their daughter, Rhonda Kim Wiley, also a graduate of HCC, is an active member of the HCC Alumni Association.
2019 Annual Tribute Dinner