Welcome to the homepage for the HCC Alumni Association, the HCC Foundation, and the HCC Volunteer Corps
The HCC Alumni Association is always happy to have individuals and businesses become active in promoting their alma mater. The Association's activities and projects support HCC and its students. Please be sure to update your contact information.
The HCC Foundation's primary purpose is to raise much needed scholarship dollars for our students. It also supports campus beautification and capital needs of the College. Learn more information about the HCC Foundation and its role and activities.
HCC maintains a corps of dedicated volunteers who complement and supplement the mission, vision, and goals of the College. They serve in a variety of capacities across the campus. Sign-up to be a volunteer.
---
Upcoming Events
The 25th Annual Flower & Garden Show - March 16 & 17, 2019

Plan today to be part of the tri-state area's largest and best floral event as the Hagerstown Community College Alumni Association hosts its Twenty-Fifth Annual Flower $ Garden Show on HCC campus in Hagerstown, Maryland, March 16 & 17, 2019. Show hours are Saturday 9 a.m. to 5 p.m. and Sunday, 10 a.m. to 4 p.m. Show set-up for vendors is on Friday, March 15 from 12 p.m. to 7 p.m.
More than one hundred exhibitors will take part in the flower show themed, "Ring Silver Bells, Smell Floral Smells and See what Alumni Can Do", which again promises to be the tri-state area's premier event! We invite you to see nurseries, distributors of lawn and garden equipment, pottery and statuary, pools, landscaping. tree services, water ponds, stone products, herbs and violets, outdoor furniture, florists, bird products, natural gourmet gifts from the garden and much more. One of the unique elements of our show is the opportunity shared by exhibitors and visitors to meet, learn, and network with other gardening experts. Regional Extension Agents, as well as nature specialists, will also be on hand to answer questions throughout the show. 
The show will be held in HCC's 48,000 square foot Athletic, Recreation, and Community Center arena, the public will have the opportunity to browse, learn, and buy. Seminars and demonstrations will be presented continuously each day to add to the educational element to our event. Special gardening activities will be offered for children. Show admission is $5 for adults and children under 12 are free. Parking is also free.
Seminar & Demonstration Schedule
Saturday, March 16, 2019
10:30 a.m. "GARDENING IN A CHANGING WORLD," Mark Lannon, Washington County Master Gardener
11:30 a.m. "CHOOSING TREES AND SHRUBS WISELY," Annette Cormany, University of Maryland Horticulture Educator
12:30 p.m. "PONDS AND WATER FEATURES/I LOVE MY JOB," Frank Fink, Living Landscapes, Master Certified Aquascape Contractor
1:30 p.m. "USING ECOLOGY IN THE GARDEN AND DESIGNING FOR MAXIMUM BENEFIT," James Dillon, Pennsylvania Certified Horticulturist (PCH)
2:30 p.m. "MAKING KOKEDAMA BALLS, A FORM OF JAPANESE BONSAI," Dusty Graham, Washington County Master Gardener
Sunday, March 17, 2019
11:30 a.m. "THE PRICKLY TRUTH, CACTUSES," Gerald Cohen, Washington County Master Gardener
12:30 p.m. "ECO-BOOST YOUR LANDSCAPE," Jason Swope, Chesapeake Bay Landscape Professional
1:30 p.m. "ATTRACTING MONARCHS TO YOUR GARDEN," Sandy Sagalkin, Monarch Alliance
2:30 p.m. "RAISING MONARCHS RESPONSIBLY," Karen Greeley, Washington County Master Gardener
Brochures & Vendor Materials
Past Events
HCC Alumni Association presents 2018 Outstanding Alumnus Award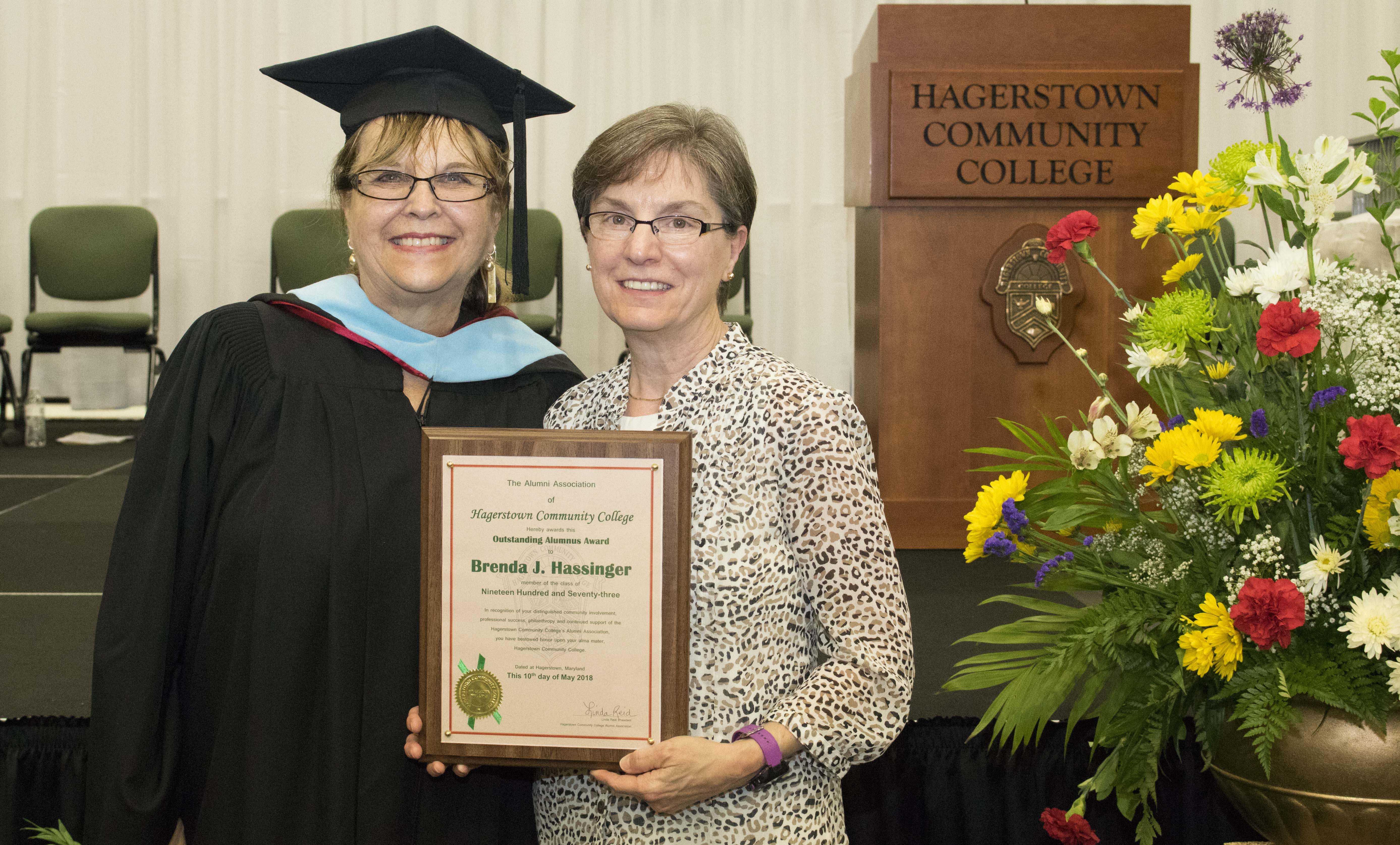 The Hagerstown Community College Alumni Association recently named Brenda J. Hassinger as Outstanding Alumnus of the Year during the college's Honors Convocation. HCC Alumni Association President Linda Reid presented the award in recognition of Hassinger's meritorious unpaid service to Hagerstown Community College and the Alumni Association, as well service to the community.
Hassinger is a 1973 graduate of Hagerstown Junior College, as well as a graduate of Hood College. She taught at HCC for many years and is now is retired from her position as the director for HCC's Radiography Program. While a student at Hagerstown Junior College, she was instrumental in helping move the Radiography Program from the Washington County Hospital to the college campus.
She has been active with the Hagerstown Community College Alumni Association since its reorganization in 1991. During this time she became a life member, served as a member of the HCC alumni board of directors, as vice president of social committee, on the Flower and Garden Show committee, as association president-elect, alumni president, and immediate past president.
Hassinger is also active with the HCC Foundation, Inc., where she is the HCC Alumni Association representative to the foundation board of directors. As such, she has been a mentor to students receiving the Sioda Scholarship, and serves on the scholarship committee and the Promise Pathway committee. She is a member of the HCC Volunteer Corp and volunteers with a variety of projects on campus.
In addition to her volunteer work at HCC, Hassinger is a member of the Haven Lutheran Church Parish Education Committee and served the American Heart Association as a CPR and BLS instructor.
She is married to James Hassinger, who also made a career teaching at HCC.
2018 Annual Tribute Dinner