Welcome to the homepage for the HCC Alumni Association, the HCC Foundation, and the HCC Volunteer Corps
The HCC Alumni Association is always happy to have individuals and businesses become active in promoting their alma mater. The Association's activities and projects support HCC and its students. Please be sure to update your contact information.
The HCC Foundation's primary purpose is to raise much needed scholarship dollars for our students. It also supports campus beautification and capital needs of the College. Learn more information about the HCC Foundation and its role and activities.
HCC maintains a corps of dedicated volunteers who complement and supplement the mission, vision, and goals of the College. They serve in a variety of capacities across the campus. Sign-up to be a volunteer.
---
Funky Fridays Concerts
The HCC Alumni Association Funky Fridays Concert Series for the Summer of 2020 has been canceled. The series will be rescheduled for the summer of 2021, with details on the exact bands, concert dates and times to follow.
To sponsor a Funky Friday event, call Lisa Stewart in the HCC Alumni Office at 240-500-2346 or Joan Bowers at 240-707-6610.
Concert Times & Dates
CANCELED - Friday, June 19, 2020 from 5:30 p.m. to 8:30 p.m. - The Reagan Years
CANCELED - Friday, July 17, 2020 from 5:30 p.m. to 8:30 p.m. - Cazhmiere
CANCELED - Friday, August 21, 2020 from 5:30 p.m. to 8:30 p.m. - Southern Charm
---
Past Events
HCC Alumni Association presents 2019 Outstanding Alumnus Award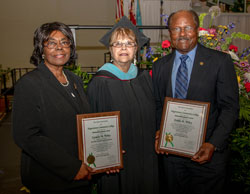 The Hagerstown Community College Alumni Association named Gracie and Eddie Wiley as Outstanding Alumni of 2019 during the college's Honors Convocation. HCC Alumni Association Immediate Past President Linda Reid presented the award in recognition of the Wiley's meritorious unpaid service to Hagerstown Community College and the Alumni Association, as well service to the community.
Sadly, Gracie Wiley died unexpectedly on November 1, 2019, after a short illness, which makes this year's award even more meaningful.
Gracie Wiley was a 1991 graduate of Hagerstown Junior College, as well as a graduate of Excelsior College of New York. She retired after a 37-year career in the United States Government working for the National Oceanic and Atmospheric Administration (NOAA).
Eddie Wiley attended HCC from 1999 to 2003 and graduated from University of Maryland. He is retired from the United States Army, where he served as a senior communication electronic operations chief. Additionally, he served as a team leader in information technology for the U.S. Government.
Since 1996, the Wiley's have given numerous hours of their time to volunteer at HCC and with the HCC Alumni Association. Currently, Eddie serves on the HCC Alumni Association board, and Gracie pre
viously served as a vice president of the association. Their daughter, Rhonda Kim Wiley, also a graduate of HCC, is an active member of the HCC Alumni Association.
Gracie will be deeply missed by all of her friends in the HCC Alumni Association.