Upcoming Events:
Little Women - The Musical
On Friday evening, December 2, 2022, at 6:00 p.m. the HCC Alumni & Friends are seeing the play, "Little Women – The Musical," at the Washington County Playhouse & Dinner Theater, in Hagerstown. We would like to invite YOU to join us. Discounted admissions are $63 per person and include a play ticket, a delicious buffet dinner, iced tea, tea, or coffee, and your prepaid 15% gratuity.
The play, "based on Louisa May Alcott's life, Little Women follows the adventures of sisters, Jo, Meg, Beth, and Amy March. Jo is trying to sell her stories for publication, but the publishers are not interested – her friend, Professor Bhaer, tells her that she has to do better and write more from herself. Begrudgingly taking this advice, Jo weaves the story of herself and her sisters and their experience growing up in Civil War America."
If you would like to join in on this pre-holiday evening with friends, please contact Lisa Stewart in the Alumni Office at 240-500-2346. NOTE: Tickets are limited, so purchase your tickets today.
We hope to see you there.
Past Events:
17th Annual HCC Alumni Association Red, White and Blue Concert Series 2022
All concerts were held in the outdoor HCC Alumni Amphitheater located on the Hagerstown Community College campus & were free and open to the public!

HCC Alumni & Friends Golf Tournament
The HCC Alumni Association hosted our 29th Annual Alumni & Friends Golf Tournament on Friday, September 9, 2022, at the Black Rock Golf Course in Hagerstown with a Noon shotgun start.

HCC Alumni Association presents 2019 Outstanding Alumnus Award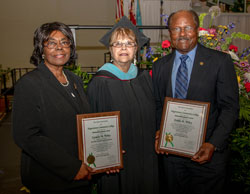 The Hagerstown Community College Alumni Association named Gracie and Eddie Wiley as Outstanding Alumni of 2019 during the college's Honors Convocation. HCC Alumni Association Immediate Past President Linda Reid presented the award in recognition of the Wiley's meritorious unpaid service to Hagerstown Community College and the Alumni Association, as well service to the community.
Sadly, Gracie Wiley died unexpectedly on November 1, 2019, after a short illness, which makes this year's award even more meaningful.
Gracie Wiley was a 1991 graduate of Hagerstown Junior College, as well as a graduate of Excelsior College of New York. She retired after a 37-year career in the United States Government working for the National Oceanic and Atmospheric Administration (NOAA).
Eddie Wiley attended HCC from 1999 to 2003 and graduated from University of Maryland. He is retired from the United States Army, where he served as a senior communication electronic operations chief. Additionally, he served as a team leader in information technology for the U.S. Government.
Since 1996, the Wiley's have given numerous hours of their time to volunteer at HCC and with the HCC Alumni Association. Currently, Eddie serves on the HCC Alumni Association board, and Gracie previously served as a vice president of the association. Their daughter, Rhonda Kim Wiley, also a graduate of HCC, is an active member of the HCC Alumni Association.
Gracie will be deeply missed by all of her friends in the HCC Alumni Association.