Upcoming Events:
27th Annual HCC Alumni Flower & Garden Show
Join us the HCC Alumni Association for our Twenty-Seventh Annual Hagerstown Community College Flower & Garden Show the tri-state area's largest and best floral event on the HCC campus in Hagerstown, Maryland, on March 18 & 19, 2023, and welcome springtime!
Enjoy garden magic as more than 100 exhibitors take part in the Annual Flower & Garden Show themed "Once Upon a Time in a Garden…!" which again promises to be the tri-state area's premier event. Vendors and exhibitors include nurseries, distributors of lawn and garden equipment, pottery and statuary, pools, landscaping, tree services, water ponds, stone products, herbs and violets, outdoor furniture, florists, wild bird products, and natural gourmet gifts from the garden and more. One of the most unique elements of the show is the opportunity to meet, learn, and network with other gardening experts. Regional extension agents, as well as nature specialists, will also be on hand to answer questions throughout the show.
The event will be held in the Hagerstown Community College's Athletic, Recreation & Community Center which is a 48,000 sq. ft. arena, the public will have an opportunity to browse, learn, and buy. Gardening seminars and demonstrations will be presented continuously each day to add to the educational element of the event. Special free gardening activities will be offered for children on both days and children are encouraged to visit our "Planting Corner" to learn about growing plants at home.
Flower & Garden Show times are: Saturday, March 18, 2023, from 9:00 a.m. - 5:00 p.m. and Sunday, March 19, 2023, from 10:00 a.m. - 4:00 p.m. Admission is just $5.00 for adults, and Children under 12 are free. For more information on vending or attending the Show, contact Lisa Stewart at Lsstewart@hagerstowncc.edu or phone at 240-500-2346.
For information on being a vendor, click the Brochure and Contract Links below or call 240-500-2346.

Past Events:
17th Annual HCC Alumni Association Red, White and Blue Concert Series 2022
All concerts were held in the outdoor HCC Alumni Amphitheater located on the Hagerstown Community College campus & were free and open to the public!

HCC Alumni & Friends Golf Tournament
The HCC Alumni Association hosted our 29th Annual Alumni & Friends Golf Tournament on Friday, September 9, 2022, at the Black Rock Golf Course in Hagerstown with a Noon shotgun start.

HCC Alumni Association presents 2019 Outstanding Alumnus Award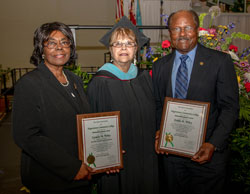 The Hagerstown Community College Alumni Association named Gracie and Eddie Wiley as Outstanding Alumni of 2019 during the college's Honors Convocation. HCC Alumni Association Immediate Past President Linda Reid presented the award in recognition of the Wiley's meritorious unpaid service to Hagerstown Community College and the Alumni Association, as well service to the community.
Sadly, Gracie Wiley died unexpectedly on November 1, 2019, after a short illness, which makes this year's award even more meaningful.
Gracie Wiley was a 1991 graduate of Hagerstown Junior College, as well as a graduate of Excelsior College of New York. She retired after a 37-year career in the United States Government working for the National Oceanic and Atmospheric Administration (NOAA).
Eddie Wiley attended HCC from 1999 to 2003 and graduated from University of Maryland. He is retired from the United States Army, where he served as a senior communication electronic operations chief. Additionally, he served as a team leader in information technology for the U.S. Government.
Since 1996, the Wiley's have given numerous hours of their time to volunteer at HCC and with the HCC Alumni Association. Currently, Eddie serves on the HCC Alumni Association board, and Gracie previously served as a vice president of the association. Their daughter, Rhonda Kim Wiley, also a graduate of HCC, is an active member of the HCC Alumni Association.
Gracie will be deeply missed by all of her friends in the HCC Alumni Association.