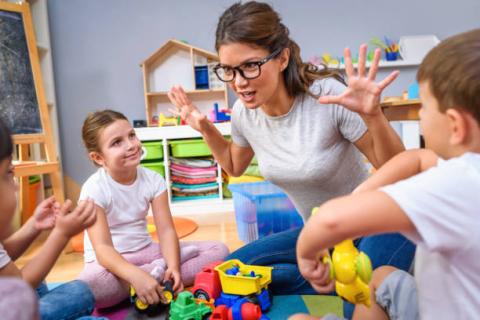 HCC in partnership with Howard Community College offers a variety of classes to prepare you for a career as a child care professional.
The certificate courses satisfy the Maryland State Department of Education requirements for child care teachers and directors. 
Topics include the major concepts, theories, and research related to the social, emotional, cognitive, and physical development of the child from birth through age 12.
Course Requirements:
Students must have a high school diploma or an approved certificate of high school equivalency.                                                                                                                                                     
The Child Care professional training course requirements include the following five courses:

Child Growth and Development
Your choice of one of the following: Infant and Toddler Care, Preschool Curriculum and Activities, or School Age Child Care
Communication Skills
Including all Children and the ADA
Basic Health and Safety                                                                                                                                          

Child Care Director Professional training course requirements include the following:

The five Child Care Professional training courses mentioned above
Child Care Administration
HCC also offers a variety of credential boosting classes.
Scholarship:
Scholarships are available and may cover all or part of the program cost. For more information or to apply now, click here. 
Spring 2023
Summer 2023