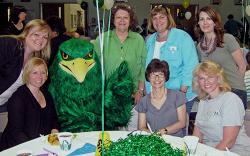 The Pride And Recognition (P.A.R.) Committee strives to maintain campus morale through employee involvement and quality employee recognition and celebration activities. Any college employee can be on the committee. P.A.R.'s goal is to have representation from faculty, support staff and administrators to ensure that all employees on campus are represented. P.A.R. organizes at least one activity per month, and has two ongoing initiatives: the HCC anniversary card distribution and the P.A.R. Star co-worker recognition program. If you would like to join the P.A.R. Committee, contact par@hagerstowncc.edu.
March P.A.R. Star Recipients:
Vincent Ippolito, RJ Lushbaugh, Brenda Huffman, Kendra Perry, RJ Lushbaugh, Amber Tobery, Paula Kessler, Kendra Perry, Peggy Hutson, Peter Mathews, David Grimes
April P.A.R. Star Recipients:
Maintenance Staff, Elaina Diggs (2), Rob Ball, IT Staff, Dawn Reed, Katy Coleman, Security Staff, Tyler Howsare, Rose Jocelyn, Matt Dorsey, Lynn Willard, Alicia Myers, Bryan Rausch, Leia Wood, Carrie Hawbecker, Mel Yourich, Megan Curry (2), Jim Niessner, Thomas Aguilera (3), Andrew Davis, Rebecca Westmeyer, Carol Rothstein, Liz Hadley (2), Rich Campbell, Linda Cornwell, Kathy Stakem, Sonjurae Cross, LuAnn Fisher, Dawn Schoenenberger (2), Rosie Oberholzer (2), Gayle Johnson, Lynda Geoffroy (2), Barb Lease (2), Sarah Conrad, Sheriann Holder-France (2), Fonda Franklin, Marti Grahl (2), Maddie Cepeda, Jennifer Childs (2), Charles Coffin (2), Nancy Stannert, Finance Office, Caleb Shank (2), Jennifer Suminski, Kelanie Yordy, Chris Nelling (2), Cassie Taylor, Lita Orner (2), David Grimes (2), Kendra Perry (2), Cheri McDannell.