Alumni Association Membership
Alumni Association Membership
Benefits
Member benefits include recognition in the Alumni Newsletter, HCC New Horizons magazine, invitations and discounts to alumni special and social events, and opportunities to develop leadership skills by serving on an Association committee or by holding office. Members also gain satisfaction from helping to provide scholarships and alumni gifts to the College. Members promote pride in HCC by honoring outstanding alumni and faculty throughout the year.
Some benefits available to all alumni are use of the library, job placement services and career planning assistance. Alumni receive the HCC New Horizons magazine.
Association Committees
Member alumni are offered the opportunity to serve on one of the Association's committees and the Board of Directors:
Budget and Finance: Prepares the budget and invests Association funds.
Executive: Made up of Association Officers. Oversees the Association's Board of Directors and makes recommendations to the Board involving policy decisions for the Association.
Flower and Garden Show: Plans the Association's annual show.
Fund Raising: Plans and implements events to raise funds for the Association's operating expenses.
Golf Tournament: Coordinates the yearly golf event.
Membership: Recruits and orients new members. Encourages membership renewals and hosts phonathons.
Nominating: Prepares nominations for officers and directors.
Planning: Conducts short and long-range planning for the Association. Members with strategic planning experience are preferred.
Reunion: Plans and conducts reunions.
Alumni Association Paid Membership
The Alumni Association is supported by paid memberships. Twenty-five percent of all dues goes directly to the Alumni Scholarship fund to help children of alumni attend HCC.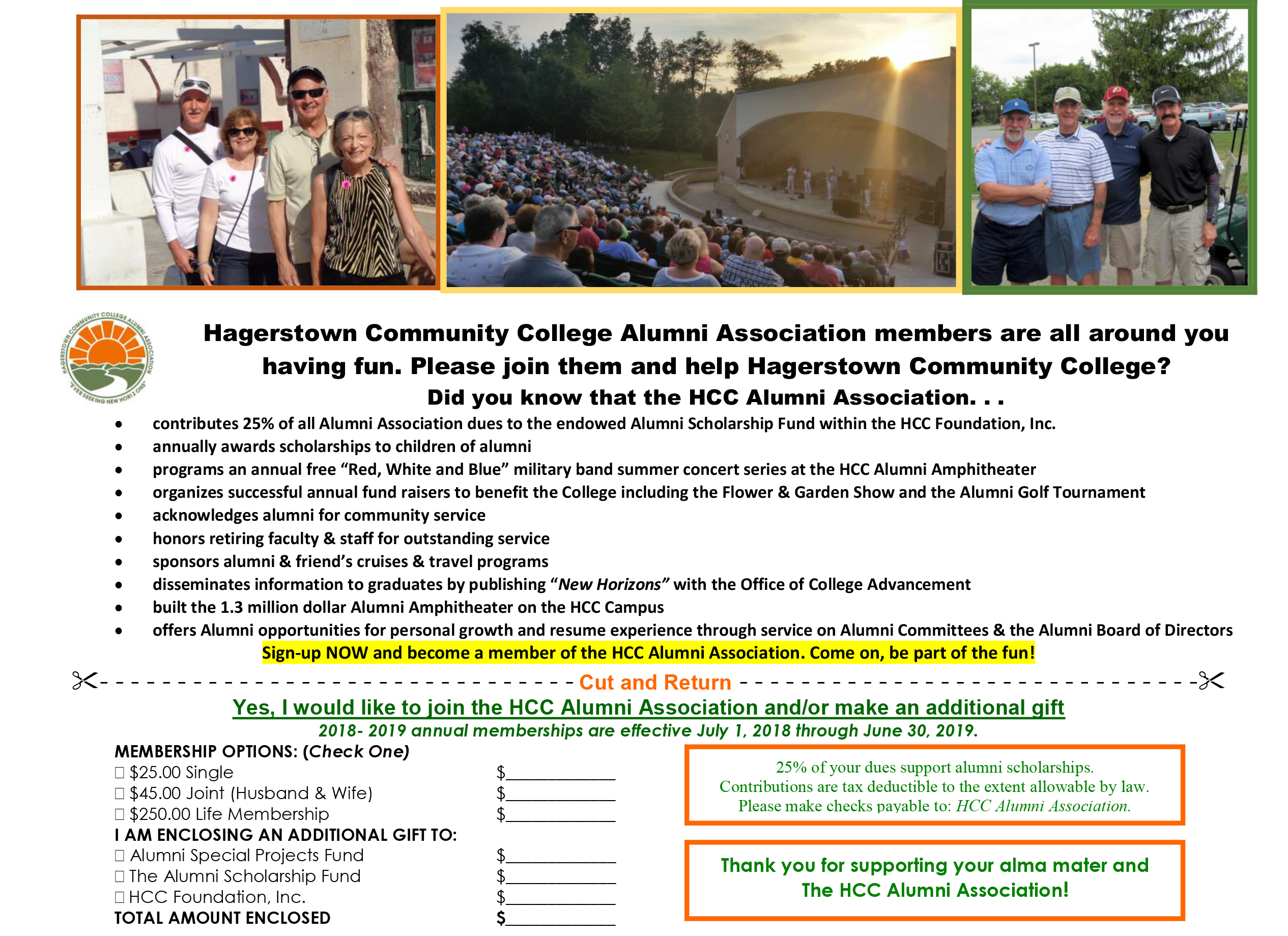 To become a member, download the form, select your type of membership and mail it along with your name, address and phone number, and a check made payable to: "HCC Alumni Association" and marked "dues" to: The HCC Alumni Office, 11400 Robinwood Drive, Hagerstown, Maryland 21742.
Annual Membership Types: Single $25, Joint (husband and wife) $45, or Lifetime $250.
Alumni Scholarship Fund Facts
Did you know that: The HCC Alumni Scholarship Fund (which is part of the HCC Foundation, Inc.) gives scholarships annually to the children of HJC/HCC Alums?The award is made annually. To apply contact the HCC Alumni Office at 240-500-2346 or 240-500-2348.
Twenty-five percent of all Alumni Association Dues collected go into the HCC Alumni Scholarship Fund to help increase the principal and to support children of Alumni attending HCC.
Additional contributions to the Alumni Scholarship Fund are always welcome and can be sent to: The HCC Alumni Office, 11400 Robinwood Drive, Hagerstown, MD 21742-9560. Please mark your checks: Alumni Scholarship Fund.
Thank you for helping to build the Alumni Scholarship Fund.